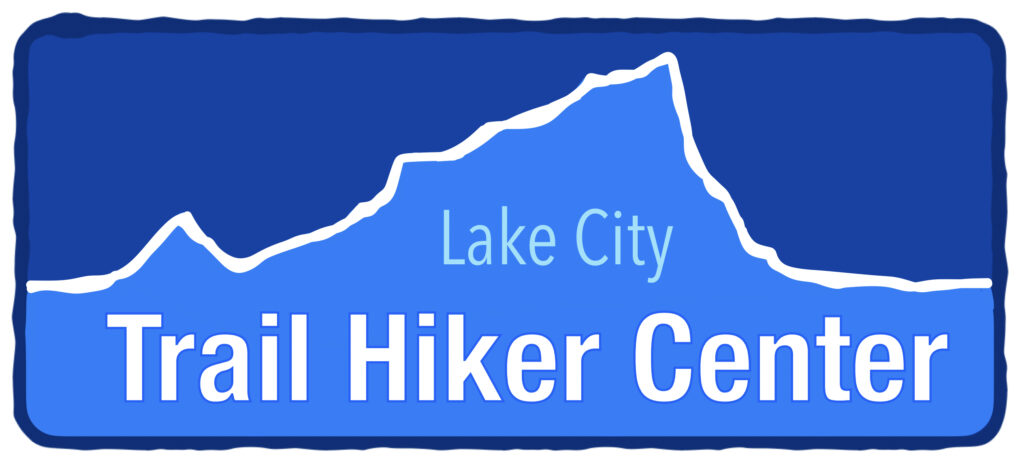 Hey CT and CDT hikers and friends,
My name is Jason Santos and I'm the minister at Community Presbyterian Church. I'm excited to announce that the Lake City Trail Hiker Center will open for the 2023 season on June 1, 2023. This year, we've added a hiker supply list to our page that will help trail hikers determine what they need to send ahead and what they can pick up in Lake City.
I'll be updating this page as the summer unfolds, but for now, here's the stuff you need to know to get the most out of the Lake City Hiker Center.
Address: 418 Silver Street, Lake City, Colorado, 81235
Coordinates: 38.0308126, -107.3157325
Contact: Rev. Dr. Jason Brian Santos (minister at Community Presbyterian Church) Email–lakecityjason@gmail.com or text–206-962-9886
Days of operation
Monday through Saturday from June 1 to September 30 (subject to change and changes will be posted here).
Hours of operation
Monday through Saturday 9am to 6pm (if you need assistance after hours please text–206-962-9886). Outdoor seating, free wi-fi, and water bottle filling/hand washing station are available 24/7. No camping permitted.
Amenities offered
+Free high speed wi-fi (SSID: Annex, PW: 418silver)
+24/7 Outdoor seating and indoor seating during open hours
+Outdoor water refilling/hand washing station
+Free tea and espresso bar, snack bins (with lots of travel bars and snacks)
+Unisex toilet (no shower available)
+Communications board with local accommodations and offerings
+Hiker box (for giving, receiving, and passing on)
+Public computer/printing services available (please contact Jason about printing)
+Sunday Shuttle from Spring Creek Pass at 4:00pm (only available from 7/9-8/27).
Community Hiker Meal
Every Sunday from July 9th to August 27th, Lake City churches and local organizations will host a community trail hiker meal from 6pm until 8pm at the Presbyterian Annex located at 418 Silver Street in Lake City. The meal is 100% free (and we don't accept donations from hikers who are actively on the CDT or the Colorado Trail).  
Additional information: AA meets in the Darley Fellowship Hall at Community Presbyterian Church on Tuesdays, Thursdays, and Saturdays from 12:00pm to 1:00pm. All are welcome.
We also have several opportunities for hikers to participate in art projects developing throughout the summer.
Lake City Trail Hiker Center Resupply
The following list represents the resupply suggestions from over 130 hikers from the Continental Divide Trail and the Colorado Trail hikers Facebook pages. Lake City shops carrying the items are listed after each in brackets. Each store is represented by a lettered code. For example, The General Store is [GS].
At the end of this list, you can find the name, address, phone number, and hours of each shop included here. Additionally, you can find a map at the bottom of this page that shows where the shops are in relationship to the Lake City Trail Hiker Center, which is located at 418 Silver Street.
High Nutrient
Bars:
Clif [GS] [CS]
Probar
Lara
Bobo [CS]
Kind [GS] [CS]
Green Belly
Builders Bars [CS]
Trail mix with M&Ms [GS] [CS]
Len & Larry's Complete Cookies [CS]
Protein shake Muscle Mill [CS]
CLIF Shot Blocks
Raisins [CS]
Nuts/Butters
Peanut butter [GS] [CS]
Almond butter: [CFM] [CS]
crunchy
smooth [CFM]
non-natural
w/jelly
small jars
individual packs [CFM]
squeeze bottles
Almonds [GS] [CS]
Assorted nuts [CS]
Macadamia
Cashews [GS] [CS]
Pecans [GS] [CS]
Toasted Tahini [CS]
Packaged Meals
Knorr:
soups
rice [GS] [CS]
noodles [GS] [CS]
sides [GS] [CS]
pasta [GS] [CS]
dinners
Backpackers pantry meals [CFM] [CS]
Instant mashed potatoes [GS] [CS]
Peak meals [CFM]
Good to Go meals
Frozen burritos [GS] [CS]
Lipton dried soups [GS] [CS]
Macaroni and cheese boxes [GS] [CS]
StarKist Smart Bowls and Chicken Creations [GS]
Stove Top Stuffing [GS] [CS]
Tasty Bite Asian meals
Uncrustable PB&J [GS]
Grains/Breads
Flour tortillas [CS]
Instant oatmeal [GS] [CS]
Bagels [GS] [CS]
Fresh bread [GS] [CS]
Instant rice [CS]
English muffins [CS]
Wheat bread [GS] [CS]
Taco wraps
Meats/Fish
Jerky:
beef [GS] [CS]
turkey
bacon
Chicken packets [GS] [CS]
Tuna packets [GS] [CS]
Dried sausages/pepperoni [GS] [CS]
Spam singles [CS]
Salmon packets [CS]
Beef hot dogs [GS] [CS]
Beef sticks [GS] [CS]
Pulled pork packets
Chomps meat sticks
Fresh Items/dairy items
cheese sticks:
cheddar [GS] [CS]
mozzarella [GS] [CS]
Cheese-1 lbs:
cheddar [GS] [CS]
swiss [GS] [CS]
mozzarella [GS] [CS]
Cream cheese in a tub [GS] [CS]
Olive packets [GS]
Sour cream [GS] [CS]
Zucchini [CS]
Avocados [CS]
Bananas [CS]
Broccoli, Organic [CS]
Sweet potatoes [CS]
Dried Items
Ramen: [GS] [CS]
Ichiban
Maruchan
Instant milk/powdered milk [CS]
Dehydrated refried beans
Dried fruit:
mango [GS] [CS]
apricots [GS] [CS]
dates [CS]
Couscous [CS]
Granola [CS]
Dehydrated veggies
Buckwheat udon noodles [CS]
Miso soup packets [CS]
Ovaltine [CS]
Powdered hummus
Powered creamer [GS] [CS]
Carob powder
Cereal [GS] [CS]
Chex mix [GS] [CS]
Coconut chips [CS]
Crackers [GS] [CS]
Chia seeds, small packs [CS]
Shelf stable tofu blocks
Drinks/Electrolytes
Instant Coffee: [GS] [CS]
Starbucks VIA [CS]
Black Rifle Coffee
single serving [GS] [CFM] [CS]
small jar of instant [CS]
Electrolyte Drink Mix:
Nuun [CS]
Liquid IV [CS]
LMNT [CFM]
MiO 5
powdered lemon
Powdered Drinks: [CS]
lemon
green ice tea
gatorade crystals [CS]
sugar free options
Gatorade [CS]
Powerade [GS] [CS]
Caffeine Packets
Carnation instant breakfast drink [CS]
Chocolate soy milk
Dr. Pepper [GS] [CS]
Snacks/Sweets
M&Ms:
plain [GS] [CS]
peanut [GS] [CS]
Chocolate bars:
3 Musketeers
Payday [CS]
Snickers [GS] [CS]
100 grand
Chips: [CS]
Doritos [GS] [CS]
Fritos [GS] [CS]
potato chips [GS] [CS]
Combos [GS]
Gummy candies:
bears [GS] [CS]
worms [GS] [CS]
Swedish fish [GS] [CS]
Pop Tarts [GS] [CS]
Fruit snack products:
gummy [GS] [CS]
leather [CS]
Welches brand [GS] [CS]
Honey buns [GS] [CS]
Nutella [GS] [CS]
Mini donuts [GS] [CS]
Packaged desserts: [GS] [CS]
Little Debbies [GS]
Cheese danishes
Cookies: [GS] [CS]
Oreos [GS] [CS]
Pecan sandies [CS]
Crackers: [GS] [CS]
Wheat Thins [CS]
Ritz [GS]
Ritz with cheese [GS]
Candy: [GS] [CS]
Starburst
Skittles
Jelly Belly Sports Beans [GS]
sour candy
Ice Cream [CS]
Chocolate [CFM] [CS]
Condiments
Hot sauce packets: [CS]
Sriracha
Frank's Red Hot
Cholula
Olive oil [CS]
Gravy packets [CS]
Taco seasoning [CS]
Honey packets
Mayonnaise packets
salt/pepper packets
Sesame oil [CS]
Soy sauce [CS]
Stevia
Strawberry jelly [GS] [CS]
Sugar packs
Vegetable bouillon
Toiletries
Baby wipes/wet wipes [GS] [CS]
Sunscreen: [GS] [CS]
smaller bottles/tubes [CFM]
roll-on [CFM]
high spf
Travel toothpaste [GS] [CS]
Lip balm with spf protection [GS] [CFM] [CS]
Natural lip balm [CFM] [CS]
Bandaids [GS] [CS]
Female products [GS] [CS]
Poise pads #2
Travel toothbrush [GS] [CS]
Travel shampoo/conditioner [GS] [CS]
Toilet paper–individual rolls [GS] [CS]
Ibuprofen–small bottles [GS] [CS]
Q-Tips [GS] [CS]
Floss [GS] [CS]
Hand sanitizer [GS] [CS]
Caffeine pills
Razors [GS] [CS]
Dr. Bronners–small bottles [CS]
Equipment
Fuel canisters–smaller ones [GS] [CS]
Freezer bags–ziplock [GS] [CS]
Ear plugs [GS] [CS]
Batteries: [GS] [CS]
AA [GS] [CS]
AAA [GS] [CS]
Sawyer squeeze filters/replacement bits
Bug protection containing Picaridin [GS] [CS]
Scent Killer Gold Field Wipes
Denatured alcohol
KT tape [CS]
Leukotape
Athletic tape [GS] [CS]
Moleskin/basic first aid [GS] [CS]
Patch kits for air sleep pads/tents [GS]
Shoe laces [GS] [CS]
Ponchos [GS] [CFM] [CS]
Tent stakes [GS] [CFM]
Gluten Free/Vegan [GS] [CS]
Gluten free freeze dried meals [CS]
Gluten free nut butter packs [CFM] [CS]
Gluten free snacks [CS]
Gluten free oatmeal/dried mixes
Lundberg brown rice crackers
Heartline soy jerky
Vegan jerky
Vegan protein mix (Soylent or Orgain)
Vegan/plant based options dried meals [CS]
Miscellaneous
Dog food [GS] [CS]
Dog treats [GS] [CFM] [CS]
Cigarettes [CS]
Lake City Shops
[CFM] Cabin Fever Mercantile
306 Silver Street (next to Packers)
970-975-0976
Sunday 11-5, Monday to Saturday 10-5:30
[CS] The Country Store
916 North Highway 149
970-944-2387
Sunday 11-6, Monday to Saturday 8-7
[GS] The General Store
252 South Gunnison Avenue
970-944-2513
Sunday 12-5, Monday to Saturday 8-6