Hey Everyone,
I hope you're all well and in good spirits. Thanks for all your prayers this past week. Silas and I are definitely feeling better and Shannon has somehow avoided picking anything up from us. There's nothing crazy happening in the life of our church this week, but there one thing I want to make sure you're aware of before we gather on Sunday.
The opening of The Art of Play exhibition at the Lake City Art Center opens tomorrow, Friday, February 10th (and through the 23rd). We'll be featuring art from local artists around the theme of play and I'll be displaying 44 games from our family collection, each which was awarded the most prestigious gaming award in the world–Spiel des Jahres (translated, Game of the year). The games will be set up in chronological order, reaching back to 1979, when the first award was given.
Tomorrow night at 6:00pm in the gallery is the opening of the exhibit and there will be free food, I'll be doing a short talk on "why play matters," and I'll lead in a large group "roll and write" game, for those who want to participate. If you can't make the opening, there are six other opportunities over the next two weeks for you to connect and see the exhibit. Trust me, you're going to love it. 🙂 Here's the schedule: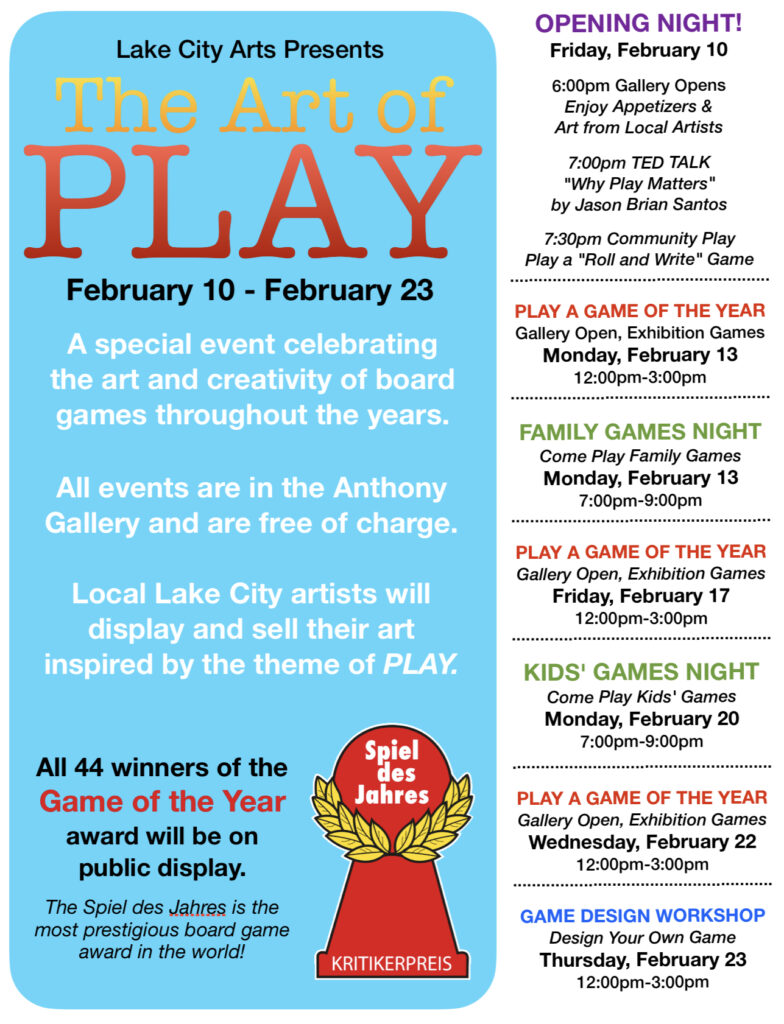 Next, I also wanted you to know that we've moved The Cost of Discipleship reading group to Wednesdays during Lent from 5:00 to 6:30pm. I originally didn't want to take that time slot from our regular Bible study attendees, but they seem keen on the idea.
Finally, don't forget that we'll be celebrating the Eucharist on Sunday during our worship service. Don't fret… I won't be preparing or distributing the elements this week, just to offer a little buffer from my stint of illness. 🙂 This week, I'll be preaching from the Gospel of Matthew passage. You can find it and the other lectionary texts in their usual place (at the end of the online Order of Worship).
Beyond those announcements, here's what's on tap this week at CPC.
Intergenerational Study of the Bible for Youth
Our intergenerational study of the Bible meets tonight Sunday, February 12th from 4:00pm to 5:30pm in the Annex. 
February Session
This Wednesday, February 15th, the CPC elders will meet for our monthly session meeting at 10:00am in Darley Hall.
Wednesday Bible Study
Join us for our weekly Bible Study on February 15th at its usual time–5:00-6:30pm in Darley Hall and on Zoom. With only two more weeks studying the Apocrypha, we'll be looking at the four books of Maccabees.
Men's Prayer Breakfast
Men's Prayer Breakfast is happening this week on Thursday, February 16th at 7:00am.
Cost of Discipleship Lenten Reading Group
This Lenten season, you're invited to join Jason on Tuesdays (time to be determined) in Darley Hall and on Zoom as we explore The Cost of Discipleship, by Dietrich Bonhoeffer.
The Art of Play at Lake City Arts
If you didn't join us for the opening this past Friday, consider stopping by the Lake City Art Center to check out the Art of Play. A schedule of the events can be found in this weeks email and on the other side of this paper.
And, here are your links for the week:
Sunday Worship Service:
https://us02web.zoom.us/j/88489308747?pwd=RHVFY1BybkU0a1RXZE9GRlBZWWpNUT09
Wednesday Evening Bible Study:
https://us02web.zoom.us/j/83431443393